September 3rd, 2005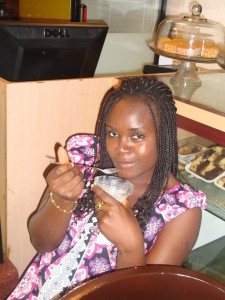 So far… quite a lot has changed about me. Still I remain in a state of metamorphosis. You don't want to work towards the future, retrospect the past and forget to live the present. So even in this shifting stage of my life, i live in the moment and make the most of it.
I love God much and His visions are my strongest desires. I've come to a place where I am working on finding ME in God; now. Thinking critically and asking critical questions.However, in the moment, exploiting the power of praise, enjoying the study of the Word and prayer.  I am also seriously 'doing' the things i should be doing- thus great progress spiritually, financially, mentally, physically

My best moments remain that time of 'reading' where you receive information and in your mind make progress.
My best Songs right now are 'More Than Enough' by Sinach,  and this liner in a Sinachs' song "He's a God who makes your today better than yesterday, He's a God who makes tomorrow better than today…"
My friends are those with whom i share my visions.
I am made up of the business of Ready to wear fashion.
I am gearing towards capacity building – people development.
I value the love and grace of God
I am strong
I love my family
Life is much more beautiful with friends & family, forget the wahala that could come with the package.